Description
How to choose the right deck for you?
Each person and personality is connected to one or more Elements. By understanding your Element, you can also understand how the imbalance of Yin and Yang effects you. Rebalancing yourself with acupressure and meridian based meditation is a key part of self-healing and personal transformation.
You can use the "Find Your Nature" diagram below to determine which Element you most align to and based on that which Deck will guide your journey the best. If you require a deeper dive to choose your Element then you can download this free booklet from The Nature of Points which will help you understand your nature.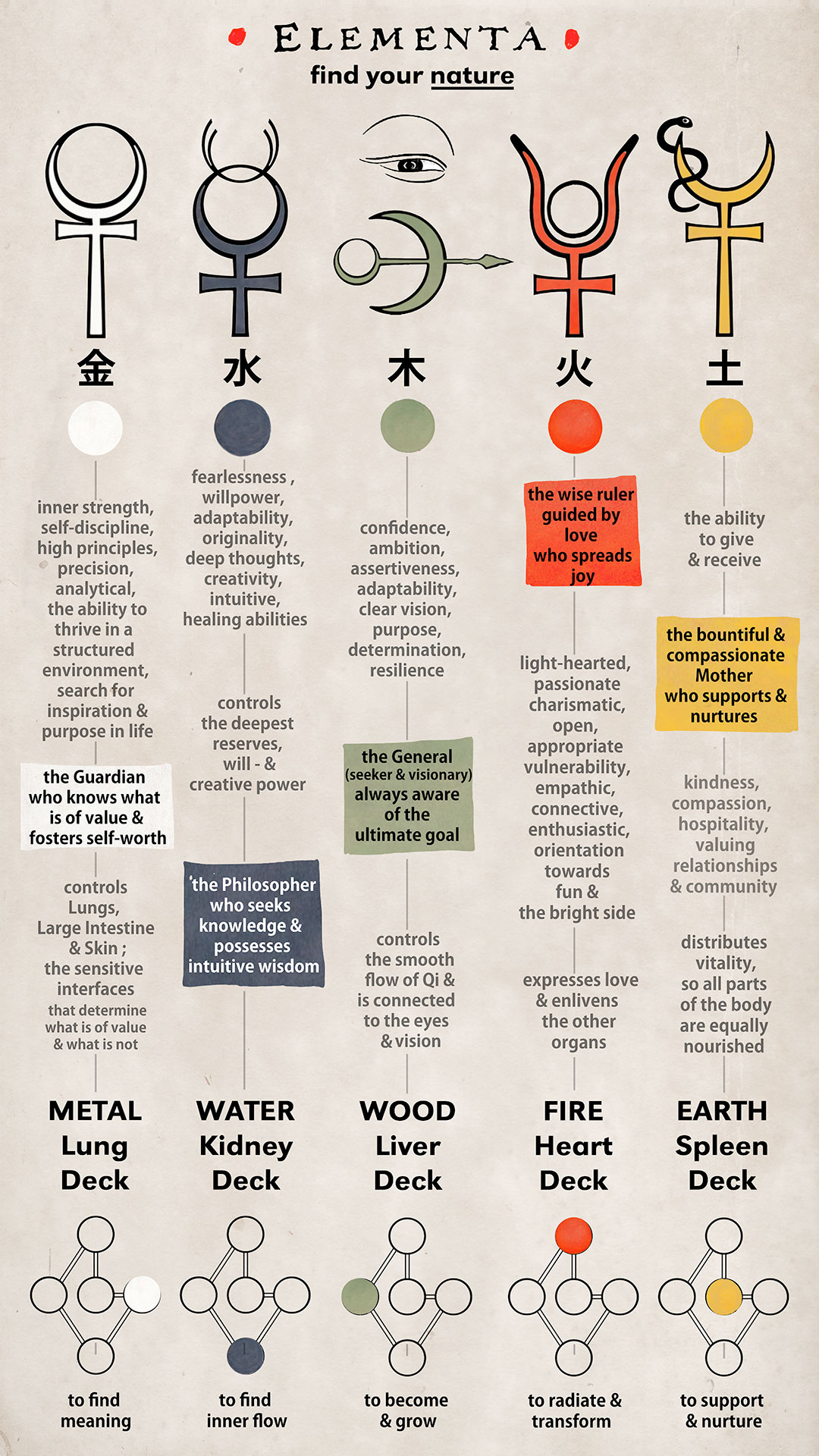 Information:
27 kidney-point-cards (kidney 1 – 27), cards are 85 x 115 mm
1 pathway body card
1 handsewn guidebook, perfect for note-taking
Messages are in English.
Point names in Chinese, English, German, Dutch, Hebrew, Latin, French, Spanish, Portuguese, Swedish and Farsi.
This deck and guide are based on the 'Spiritual anatomy of the meridiansystem' teachings and books of Josef Viktor Müller, Professor Worsley, Dr. Jeffrey Yuen, Rochat de la Vallée, Nora Franglen, Peter Mandel and Peter Deadman.
---
THE NATURE OF POINTS
Flora Joan & Michael Silvester van der Giessen are the inseparable creative duo behind the Amsterdam based 'healing arts' project – The Nature of Points.
Flora grew up in a family of acupuncturists and this shaped her art and identity. Professional cultivation of this upbringing became a beautiful addition to her curriculum after she herself graduated from the academy as an acupuncturist where she works as a clinical assistant.
Prepping the students for their exams gave her a good indication of how mnemonic devices could help with learning the name, the meaning and function of each point. The couple is reverse-engineering this insight into easy to consume memory aids / aide-mémoires for students.
Flora believes that exemplifying the nature of the points may invigorate a practitioner's art (and could inspire a patient's interest in the waiting room as a bonus).
House of Formlab is delighted to offer our clients these groundbreaking new healing artistry guides.